Waffles are an absolute childhood memory for me. They were usually served in the afternoons during the cool season when friends were visiting. Then we all sat around the table and waited with anticipation and impatience for the next finished waffle. What could be better than the smell of freshly baked waffles? Not much, so today I would like to share with you the recipe for wonderfully delicious wholemeal spelt waffles. After all, in the 20 years between waffles, I've come to the conclusion that even supposedly unhealthy things can still be a bit healthy with selected ingredients and the right preparation 🙂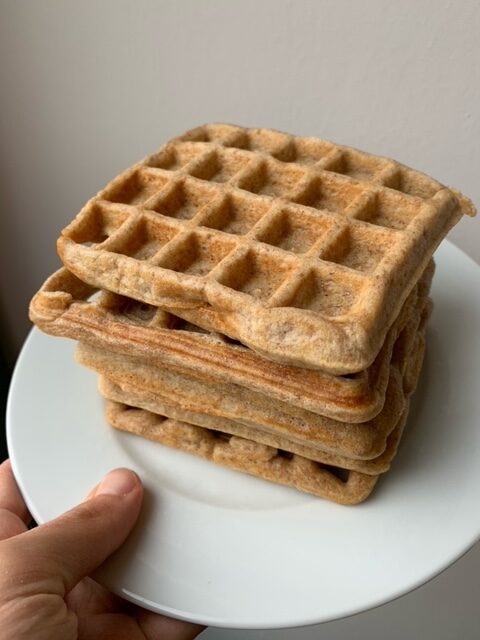 Why cereals should be soaked as long as possible
If you can, e.g. if you know you have visitors coming the next day, I would recommend preparing the batter the night before or at least in the morning. Then stir again with a sip of water just before baking. Long soaking and the addition of a little lemon juice improves the digestibility of the wholemeal flour. This happens because the so-called phytase is activated. This is an enzyme that breaks down the phytic acid contained in whole grains.
What is phytic acid?
Phytic acid (also IP6) is an antioxidant naturally occurring in plants, grains and nuts that stores phosphates and other minerals for seedling growth. In the body, however, it can form insoluble compounds with iron, zinc, calcium and magnesium, among others, thus depriving the body of them for utilisation (1, 2). It is therefore also called an "anti-nutrient". At the same time, however, there is no danger of an undersupply of minerals in a balanced diet (3). This is the common opinion. In addition, numerous positive properties are attributed to it. It has anti-carcinogenic and positive effects on the biochemical processes in diabetes mellitus type 2, Alzheimer's and Parkinson's disease, reduces the calcification of vessels and also has anti-inflammatory properties in relation to chronic inflammatory stomach and intestinal diseases (4). However, further studies are still needed to be able to conclusively assess the effects. In the meantime, a healthy balance with primarily soaked cereals is recommended. By the way, this does not apply to nuts!
Delicious Wholemeal spelt waffles – Recipe
For approx. 10 waffles
– 300 g wholemeal spelt flour (preferably freshly ground)
– 2 tsp baking powder
– 1 pinch of salt
– 50 g sugar (preferably whole cane sugar)
– approx. 400 ml milk of choice
– approx. 50-100 ml sparkling water
– 3 eggs
– 125 g melted butter
– 1 squeeze of lemon juice
– 1 pinch of vanilla
Mix the flour with the sugar, baking powder, salt and a pinch of vanilla in a large bowl. In a second bowl, whisk the eggs with the milk and water and add them to the dry ingredients together with the melted butter and the squeeze of lemon juice. Mix everything to a slightly lumpy batter. (Important: don't stir too much, otherwise the waffles won't be as fluffy). Let everything rest in the fridge for some hours, as the long resting or soaking improves the digestibility of the flour. Heat the waffle iron according to the manufacturer's instructions, grease it if necessary and bake the waffles for approx. 5 minutes or until they are browned to your liking. Serve while still warm with icing sugar or other toppings, depending on your taste, and enjoy 🙂
Personally, I like waffles with icing sugar best of all, as they stay nice and crispy and you can taste the waffle itself. Others like to add chocolate spread, whipped cream and fruit. Of course, you can also make them savoury, with guacamole, salmon or a fried egg for example.
These delicious wholemeal spelt waffles are also perfect for a long weekend breakfast. They could also be served with bagels and granola and a fiery ginger shot.
Of course, the waffles are obviously not vegan. Since I don't live vegan myself and waffles are not part of my daily menu, this doesn't bother me. However, as we are expecting a vegan visitor this weekend, vegan wholemeal spelt waffles are a must. I wanted to try out Melanie and Sönke's recipe from the wonderful Vollwert-blog.de (and then replace the honey with sugar).
Have a wonderful week and enjoy!
Your Alina