The pumpkin season is actually already over, but I'm still in soup mode. Luckily, there is still enough stock to make this simple pumpkin soup with toppings. It makes a perfect quick lunch or dinner on cold days. With ginger, curry and coconut milk, it has a slight Asian touch. And with numerous toppings, it gets extra zing and bite, so you don't feel like you're spooning baby porridge 😉. It's also good for filling you up. It also makes you feel full. For toppings, I love homemade croutons made from leftover bread that I roast in a pan with olive oil, salt and chilli, as well as roasted pumpkin seeds and crème fraiche. Add a dollop of pumpkin seed oil and the ultra creamy soup experience is perfect!
Pumpkins belong to the cucurbit family, along with cucumbers, courgettes and melons. Botanically, they even belong to the berries! Pumpkins are rich in vitamin C, carotene and fibre. Pumpkin seeds contain trace elements (zinc, selenium, phosphorus, copper, iron, magnesium), vitamin E, ß-carotene, and phytosterols with hormone-like effects. They are particularly good for prostate and bladder problems (1, 2). (Hulled) pumpkin seeds, roasted with salt in the oven or in a pan, make a wonderful snack or chips substitute! I also love to use pumpkin seeds in my homemade granola or add them to bread. They are also great for biscuits! Pumpkin seed oil is ideal not only for pumpkin soup, but also for carrot, beetroot and apple salads, potato salads or mixed with sour cream as a dip. It also tastes excellent over vanilla ice cream!
If you are expecting guests and still have enough pumpkin appetite, you could also prepare a pumpkin menu: pumpkin soup with toppings as a starter, pumpkin risotto as a main course and vanilla ice cream with pumpkin seed oil as a dessert. If you want to make it extravagant, you could also serve homemade bread with pumpkin seeds. 😊
Recipe for a simple pumpkin soup with toppings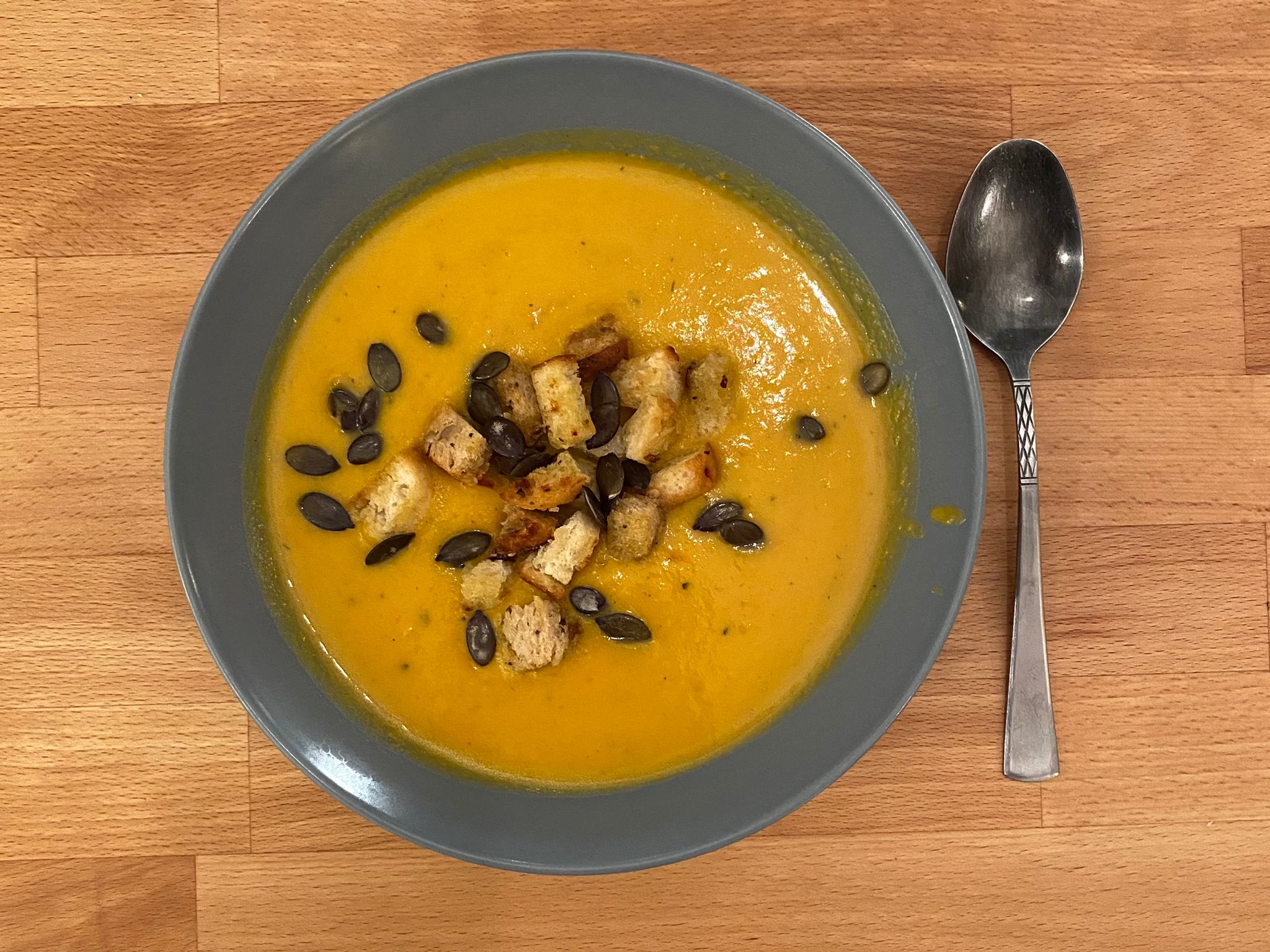 Serves 4
Ingredients:
1 white onion, a thumb-sized piece of ginger, a clove of garlic, chilli pepper if desired.
1 fairly large Hokkaido pumpkin
2 carrots, 2 floury potatoes
1 can of coconut milk or approx. 200 ml cream
Curry, salt, pepper, vegetable stock
Olive oil, coconut oil
Preparation: 
Peel the onion, garlic clove and ginger (if using) and chop them into small pieces. Wash and cut the Hokkaido pumpkin, carrots and peeled potatoes into small pieces, removing any unsightly spots.
Now heat about 2 tablespoons each of coconut oil and olive oil in a large saucepan over medium heat and add the onions, ginger and, if desired, the finely chopped chilli pepper, allow both to sweat a little and season the mixture with a little curry.
Then add the vegetables and garlic and let them steam for a while.
Pour in vegetable stock dissolved in boiling water and simmer for about 20 minutes or until everything is soft.
Finally, add coconut milk or cream and season with salt, pepper and more curry if necessary. Puree the soup to the desired consistency.
For the toppings:
Approx. 2 (stale) rolls or some (stale) bread, cut into small cubes.
Pumpkin seeds
Olive oil
Salt, chilli if necessary
Sour cream or crème fraiche
Preparation: 
Toast the bread cubes with olive oil and salt and if necessary a little chilli in a pan until crispy. Simply salt the pumpkin seeds without oil.
Garnish at the table with toppings, a dollop of sour cream and a sip of pumpkin seed oil and enjoy! 😊
Variations: If you like it fruitier, you can add a pear or a sip of orange juice to the soup. A variation with sweet potatoes or red lentils is also delicious!
I hope you enjoy cooking this soup and have a great weekend! How do you prepare your favourite pumpkin soup? Feel free to tell me in the comments.
Your Alina