I hope you all had a good start to the new year! We celebrated with the family in a small group. And since a birthday also fell during the holidays, I would like to share with you today the birthday cake recipe for a simple rustic apple pie with almond crust. I love apple pie! I also actually love any pastry that involves apples in any form. For some reason I can't explain, I actually don't like eating them whole at all, I often feel a bit sick afterwards. If you have any ideas what it could be, please let me know! I do, however, like to eat it (in wedges) as a side dish for cheese sandwiches or grated in muesli.
I often think "I'll bake a quick apple pie, that's always good", and then I don't have a suitable recipe. Since I'm usually too lazy to peel apples and arrange them neatly on a cake base, I needed a recipe that would work without these steps. It's not exactly a fine apple pie, but rather a kind of apple tart like grandma's 😊. Since our grain mill grinds the whole grain, we usually bake the cake with wholemeal flour. I usually use spelt, as I really like the nutty taste and it contains a few more vitamins and proteins than classic wheat 😉 . Sometimes I replace some of the flour with ground almonds, depending on what's in the house.  You could also replace the almond crust with crumbles. Serve with whipped cream or vanilla ice cream…a dream! I hope it's to your taste too!
A little digression about apples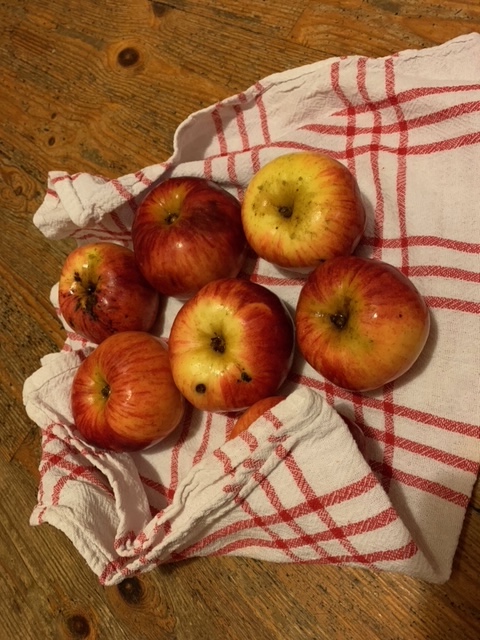 It is no coincidence that apples are so popular. Old apple varieties such as Boskop or Cox Orange contain a lot of vitamins, including C, E and B vitamins, fibre and secondary plant substances, so-called polyphenols. These have an anti-inflammatory effect. Studies also show positive effects in the presence of high blood pressure, dementia, lung diseases and diabetes (1).
Recipe for a simple rustic apple pie with almond crust
For a springform pan (26cm diameter).
The base: Make a shortcrust pastry with 200g flour (preferably wholemeal spelt), 100g butter (vegan: margarine or coconut oil), 60g (whole cane) sugar, 1 packet vanilla sugar, 1 egg and a pinch of salt and cinnamon to taste. Form a ball and let it rest in the fridge for 30 minutes while you prepare the apples and almond topping.
For the apples: Wash 4 large or 5 medium organic apples well and cut them into small pieces. Mix them well with a little lemon juice and a pinch of cinnamon.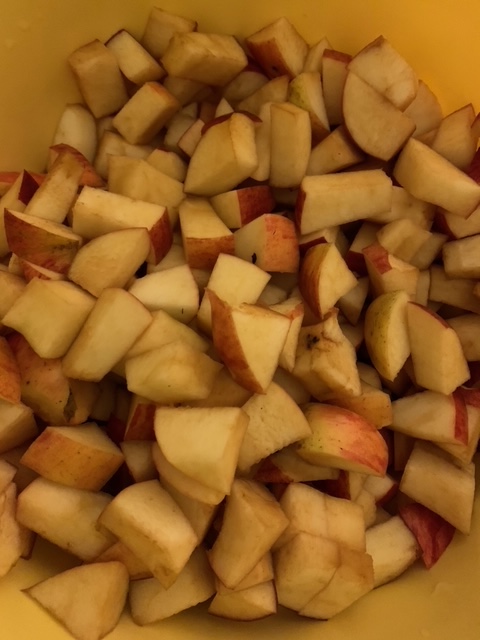 The almond topping: Melt 100g butter with 70g (whole cane) sugar, 1 large tablespoon honey and a pinch of cinnamon. Add 200g almond flakes (or a mixture of flakes and sticks) and 3 tbsp cream and flour each and mix well.
Then line the well-greased springform pan with the shortcrust pastry and prick it a few times with a fork.
Now place the apples on the pastry, spread them evenly and then spread the almond mixture over them.
Bake the cake at 170°C convection oven for approx. 50min. Check in the meantime that the almonds do not get too dark.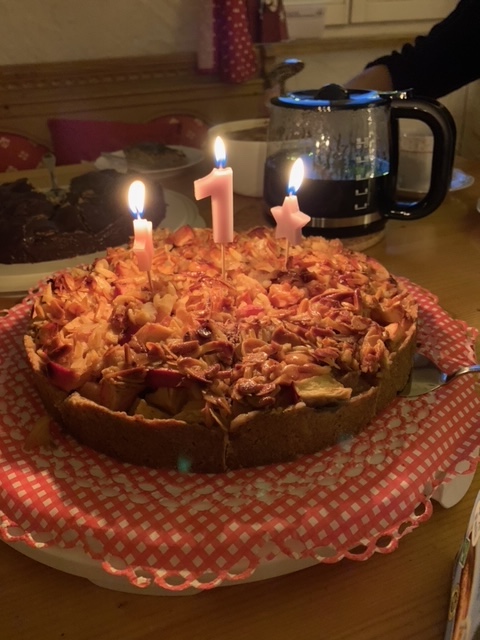 You can also add (rum) sultanas or other spices to the apple mixture.
Have fun baking and eating 🙂 For more tips on what to do during grey January days without the Christmas glitter have a look on my other article How to survive the winter blues in Corona times.
Your Alina