The other day we had a Persian dinner in a big group. Since my grandfather was Iranian, I've known the taste since I was a child, and it's a celebration every time my mother cooks something Persian. I haven't dared to do it myself yet, but I'm determined to carry on this tradition in my family in the future. What I have contributed, however, is an oriental-inspired pomegranate cream mousse with pistachios. It looks beautiful, tastes super delicious and is easy to make. Ideal for a nice meal with family, friends and for parties! Thus, it is perfect for the holiday season, especially if you want to add a bit of an oriental touch.
Interesting facts about the pomegranate
The history of the pomegranate goes way back to about 3000 B.C and the origin lies in the Middle East. The pomegranate is mentioned in the Bible and the Koran and is regarded in some cultures as a symbol of good luck and fertility (1). Its seeds and juice contain, among other things, vitamins C and K, folic acid and numerous polyphenols, which have health-promoting effects. They have antioxidant, anti-flammatory and antihypertensive effects, i.e. against high blood pressure. In addition, antimicrobial and anticarcinogenic effects have been described in studies (1,2, 3). In addition, pomegranate extracts are associated with a positive effect in the presence of diabetes mellitus type 2 and dementia. For detailed information, take a look at this review! However, caution is advised if you are taking highly concentrated pomegranate extracts and medications at the same time, in which case you should consult your doctor! Pomegranate extracts can slow down the breakdown of some medications, such as sildenafil and phenprocumon (4).
What is the best way to get the seeds without ruining white walls and clothes?
The best way is to cut off the top cap of the pomegranate and immerse the pomegranate in a large bowl of water, e.g. in the sink, as this prevents splashing. Then break the fruit roughly into quarters and remove the seeds. If you want to be absolutely sure, you can also wear an apron and household gloves 😉
Recipe for pomegranate cream mousse with pistachios
Serves approx. 6, depending on your dessert appetite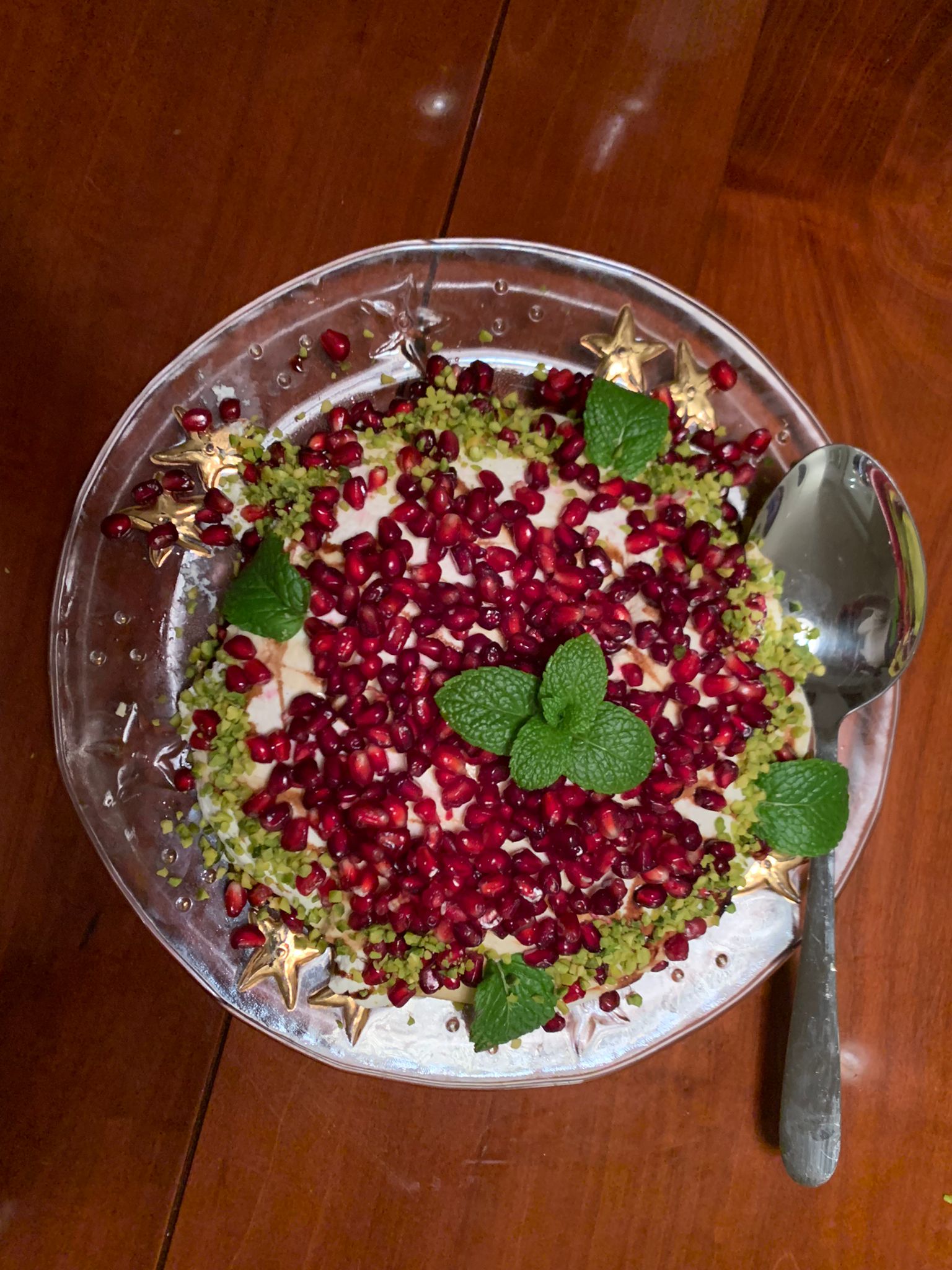 Important: You must start preparing the dessert one day before it is to be eaten!
Mix 500 g natural yoghurt with 250 g mascarpone, 2 tbsp. lemon juice, 80 g raw cane sugar and 1 sachet vanilla sugar. Fold in 250 g whipped cream. Pour the mixture into a sieve lined with a tea towel and placed in a larger bowl. Leave to drain overnight (or until the next evening) in the fridge. To serve, invert the mousse onto a plate or pretty platter.
Before serving: Remove the seeds from 1-2 pomegranates. Pour some honey or maple syrup over the mousse, garnish with the pomegranate seeds and a handful of chopped pistachio nuts. Almonds would also go well! Add a few leaves of fresh mint if you like, and this festive dessert is perfect!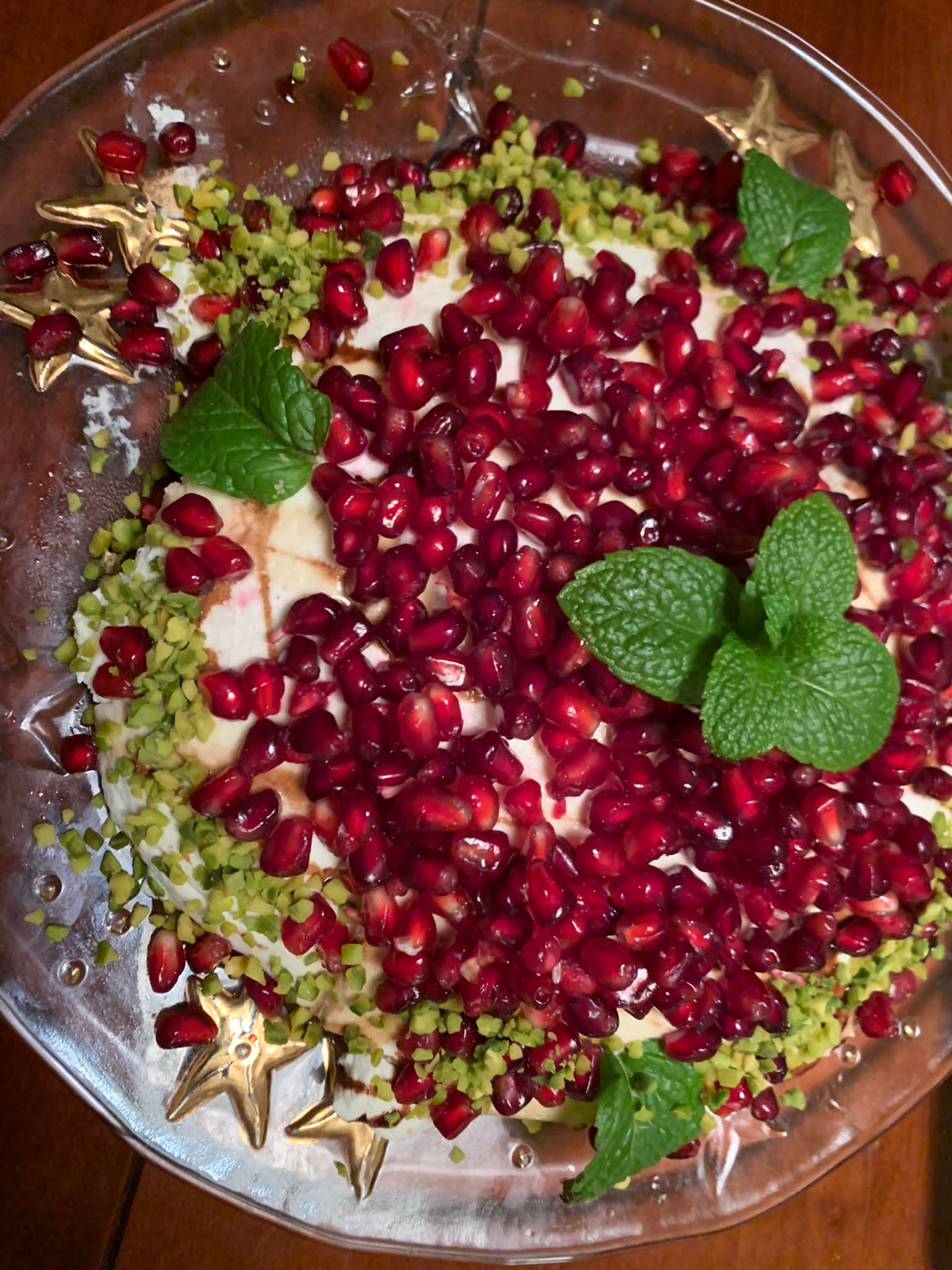 I hope you'll give this dessert a try – it's worth it!
I wish you a happy holiday season,
Your Alina