Our daughter is now almost a year old. A year in which she drank a lot of breast milk and got to know all kinds of new foods has flown by. A year in which I ate a lot and always woke up very hungry when she sucked me dry during the night 😅.  Since breastfeeding nutrition and starting complementary feeding are usually topics you have no idea about until it affects you, I thought an article about it might be interesting for some of you. I'll show you what healthy eating looked like for us during pregnancy and breastfeeding.
Healthy eating during pregnancy
Let me start at the very beginning of pregnancy. In the first few weeks I suffered from moderate nausea, which got better as soon as I ate something. I mostly had an appetite for cold fruit, muesli and pretzels. Not what usually makes up the main part of my diet, but I didn't care at that moment, the main thing was that the nausea got better. Especially as I also had to function at work. So I gained over 6 kg in the first 4 months (not only because of that, of course) (by the end of the pregnancy I had gained "only" about 10 kg). After this phase had passed, I could actually eat everything normally again. I regularly had an appetite for sour gummy bears, but otherwise no other special pregnancy cravings. By the way, a sufficient supply of B vitamins is supposed to counteract nausea.
So the pregnancy was cordially unexciting from a culinary point of view, I ate what I would have eaten otherwise, and no more of it. Of course, I didn't drink alcohol during the whole pregnancy. Even the thought of coffee made me nauseous at first, and when it got better, I tried to make do with decaffeinated coffee as much as possible, as the current state of research on caffeine during pregnancy made me a little cautious. According to some studies summarised by Qian et al. in their review, coffee consumption during pregnancy (the caffeine is placental) can lead to miscarriages and premature births, low birth weight and mild cognitive impairment (1).
Food supplements
In the first few weeks I took folic acid (vitamin B9) daily, in the last few months not quite so daily. This is needed for the growth of the embryo, especially in the first few weeks. A deficiency can lead to malformations such as spina bifida ("open back"). Natural sources of folic acid are green leafy vegetables, wholemeal products, eggs, nuts and pulses.
In addition, I have been substituting vitamin D during the last few months, i.e. autumn and winter. Vitamin D is essential for a strong immune system, in addition to its role in bone formation and calcium balance (2).
Since I am unfortunately prone to iron deficiency anaemia anyway, and even more so during pregnancy, I have also been taking iron supplements, sometimes in the form of red-cheek juice and sometimes in the form of "real" tablets. A (severe) iron deficiency during pregnancy can also lead to premature birth or miscarriage (3). Natural sources of iron are, for example, whole grain products, legumes or pumpkin seeds.
In addition, I have always paid attention, and continue to do so, to a good supply of omega-3 fatty acids. These are necessary for healthy brain development, among other things. My main sources are linseed, linseed oil and walnuts. Small amounts of these are already absolutely sufficient!
So far, I continue to take vitamin D and drink iron juice from time to time, just as I feel.
End of pregnancy
Towards the end of pregnancy, I had a particularly strong appetite for fresh salads and fruit, especially tangerines and pomegranates! I remember eating about 10 tangerines in the hours around the birth! Apart from that, I ate normal, wholesome meals and in between I liked a hot (chilli) chocolate and a piece of stollen. From about the 37th week I drank a cup of raspberry leaf tea from time to time and ate one or two dates, but not to the extent that some advisors recommend. By the way, I mainly used the book "Die Hebammensprechstunde" by Ingeborg Stadelmann as a basis for preparing for birth, as I found it very appealing.
Healthy eating for baby and mum – breastfeeding time
So on a tangerine-filled night, our daughter was born. 😊 Immediately after the delivery I had already lost about 7 kg, most of the weight gain had clearly been due to the amniotic fluid. The birth was rather quick and quite intense, there was unfortunately no time for an epidural (local anaesthetic close to the spinal cord), which I would have liked because of the pain. But I don't want to complain.
Unfortunately, our postpartum period was quite bumpy in the beginning because we had an outpatient birth and then had to go to the clinic 2 more times for check-ups due to mild neonatal jaundice. This is a type of jaundice that affects about 60% of all newborns and in most cases is physiological, i.e. harmless, because red blood cells are broken down and the liver is not yet functional enough to metabolise the waste products. As a result, the so-called bilirubin accumulates, which colours the skin yellow.
However, once the excitement had died down a bit, we started to pay attention to healthy food again! In the mornings, we usually had a big Bircher muesli with soaked oatmeal, linseed and other nuts and seeds, fresh fruit and almond milk, and a big dollop of cream for extra power. Or a granola. Lunches were usually potato or carrot-based stews, curries or pasta. I used spices in the form of onions, garlic, ginger and chilli sparingly at first. These can leave traces in the breast milk and cause flatulence. In the evening, we often ate a colourful salad or leftovers from lunch, plus some bread with butter, salt and cheese or other toppings. As a snack before bedtime, I usually ate another loaf of bread with walnuts or 1 tablespoon of linseed oil for an optimal supply of omega-3 fatty acids and some raw vegetables. In between, during the day, I always had some fruit, wholesome biscuits such as my home-baked oat biscuits, chocolate or a second muesli. So I was always well supplied with nutrients and had enough energy to take good care of our baby. I also made sure to drink enough fluids in the form of still water, (still) tea and the occasional non-alcoholic beer. In summary, I can say that I ate a wholesome and balanced diet, as usual. After a few months, I had already regained my initial weight and had to be careful not to lose it.
A short digression on breast milk
Breast milk covers all the baby's nutritional needs in the first 6 months or so of life; only vitamin D should be added, especially in the winter months. It also has numerous advantages for the health of the child. It contains living cells, proteins, healthy fatty acids, growth hormones and even antibodies that protect the baby against diseases and prevent allergies (4,5). The taste of breast milk (as well as amniotic fluid during pregnancy) is even influenced by what the mum eats. So if the mother eats a varied diet, the baby will already get to know all kinds of flavours 😊 (6).
And what else does our daughter eat?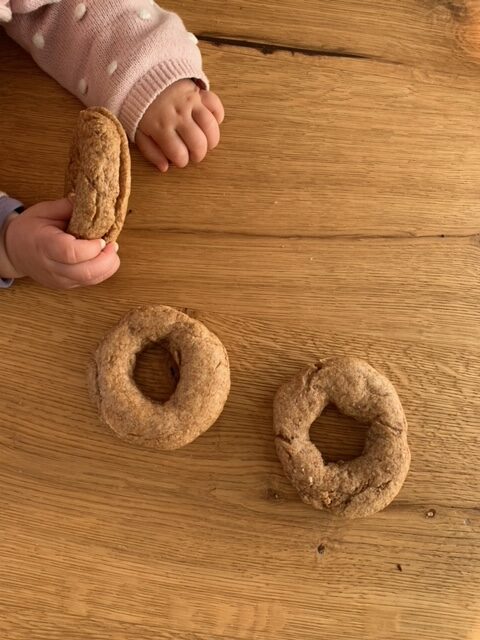 For the first 6 months, I exclusively breastfed her, which fortunately worked without any problems. She did get a carrot or a piece of cucumber to nibble on here and there, but since her first teeth didn't come in until she was about 9.5 months old, of course she couldn't eat any of that. After 6 months, when her interest in food was gradually awakened, she had porridge more and more often. This was usually based on potatoes, carrots, soaked oats or millet. In addition, there was always whatever was available, e.g. courgette, pumpkin, cucumber or kale. Since breast milk is already sweet, I didn't want to overdo it with fruit rations and only added some mashed banana or finely grated apple to the oatmeal in the morning or afternoon to nibble on. As for fats, I usually added a small piece of butter, coconut oil or a dollop of cream to the porridge (in addition to the fat in the mother's milk). I only introduced nut mush recently, and only in small amounts. Fortunately, there have been no problems with the food so far. Our daughter likes to try and eat all vegetables. In the meantime, she usually eats small portions of our food, cut into small pieces.
All in all, we have taken a very relaxed approach to the whole topic of healthy eating during pregnancy and breastfeeding, and I think we are doing quite well with it. I will be happy to write more posts on whole foods in infancy in the future.
I hope there was something helpful for you. I wish you a good pregnancy and a happy breastfeeding period!
Your Alina