Last weekend we enjoyed wonderful fluffy sourdough pancakes for breakfast. Some of them we still refined with blueberries and ate them together with fried egg, fried bacon and maple syrup. The recipe for the pancakes was my former standard recipe, but I added sourdough to the dough and let it soak overnight. Thus, during the night the phytase could do its job, break down the phytic acid and thus make the nutrients from the whole wheat flour more available to us. The result was super fluffy, fluffy light and original American tasty pancakes! Don't worry, they taste neither sour nor too healthy! 😉
Why sourdough?
On the one hand, sourdough contains healthy lactic acid bacteria that subject the grain to a kind of fermentation process, making it easier to digest. On the other hand, soaking in the acidified medium also breaks down phytic acid, making the ingredients of the whole grain more digestible for us. People who are sensitive to gluten often tolerate products made from sourdough well. However, if you suffer from manifest celiac disease, all gluten-containing grains (rye, wheat, spelt, emmer, einkorn, barley, green spelt) should be avoided! (1)
In my version, the flour is soaked overnight along with the sourdough starter and water, so a little advance planning is required. If sourdough pancakes are to be baked spontaneously, you can also just use (fed!) sourdough starter. Find out how to make sourdough starter in the first place here.
Recipe for super fluffy sourdough pancakes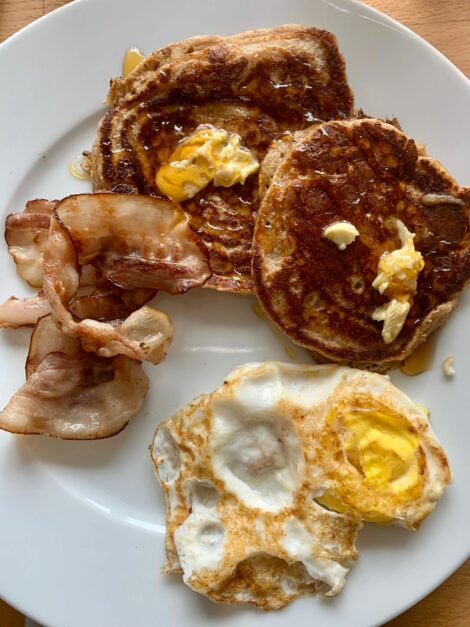 For approx. 10 pieces
250g flour
2 tablespoons active sourdough starter
250ml milk
2 eggs
2 tbsp sugar, 1 pinch salt, 2 tsp baking powder
Mix 250g flour (I usually use spelt, einkorn or whole wheat flour) with 2 tbsp active sourdough starter, 1 pinch of salt, 2 tbsp sugar and 2 tsp baking powder and 250ml milk of choice. Let the mixture soak overnight. The next morning, add 2 beaten eggs and a little more liquid if necessary and mix well. In a well-greased pan, bake out pancakes about the size of your palm. You can flip them when visible bubbles form on the top.
The pancakes are especially delicious if you add a few blueberries to each pancake while baking. I prefer to eat them as shown in the picture, with fried egg, bacon, maple syrup and butter. But they also taste great plain, with syrup and some yogurt or whipped cream and fresh fruit.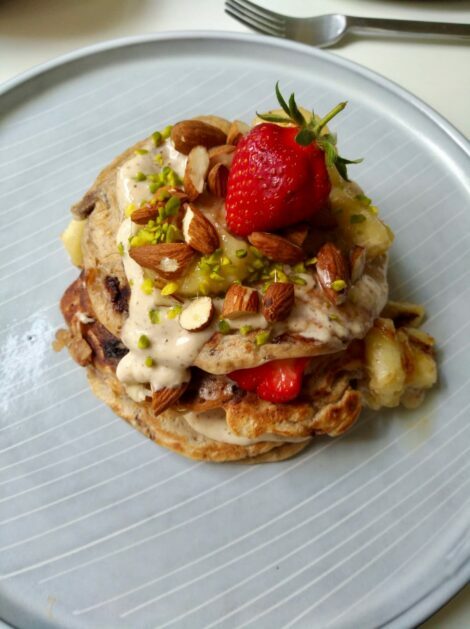 Try the pancakes at your next extensive weekend breakfast definitely, it is very worth it! 🙂
Do you have any other good (sourdough) recipes for breakfast that I should definitely try? Feel free to write it to me in the comments.
Have a good weekend,
your Alina