Do you know them too? The people who think about Christmas all year round and buy a present at every opportunity and then have them all together in the summer. They must be really bored before Christmas ;). I belong to the opposite group and usually think about what I want to give to whom about 3 days before. Don't get me wrong, I love the contemplative, cosy time, but long-term planning in advance is not my thing. At the same time, I like small, personal gifts that can also be homemade. My strengths in DIY are definitely in the kitchen – I like to leave knitting, sewing, painting etc. to others. Fortunately, we all have enough of everything anyway, so some families follow the principle of not giving presents at Christmas. But I like to make others happy, so last minute (culinary, healthy) homemade Christmas gifts are a must! Here I've put together some simple, healthy inspiration for you, in case you feel the same way.
Here we go, because now it really is last minute!
Last minute DIY culinary Christmas gifts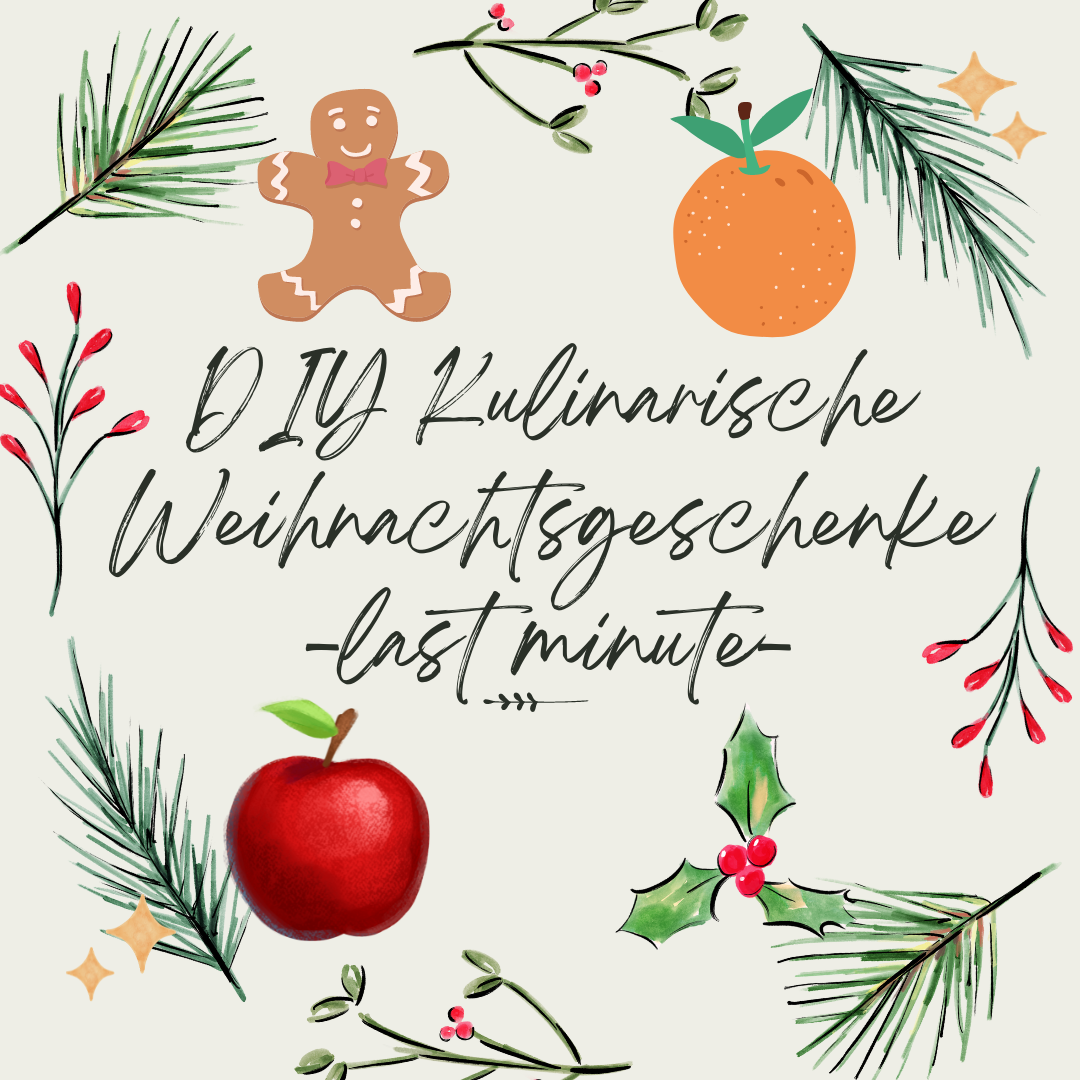 Chai or Pumpkin Spice Syrup: either the individual spices (cinnamon, ginger, nutmeg, cardamom, cloves, coriander, allspice) or a ready-made mixture with 200g whole cane sugar and 450ml water, boil down for approx. 30 minutes until syrupy and pour through a sieve into a small bottle. For the Pumpkin Spice Syrup, boil some soft pumpkin puree. Tastes good in coffee, whipped cream, hot "milk" or over pancakes.
Spicy nuts:Mix 250g organic nuts of your choice with 2 tbsp melted butter, 2 tsp spices of your choice (e.g. rosemary, curry, paprika), 1 tsp sea salt and some pepper and bake in the oven at 175 °C for about 10 minutes. Great as a snack in the evening while watching a film or in between meals when you're craving something salty.
Homemade granola: Looks pretty and tastes good to everyone. Check out my post for that.
Dried orange, lemon or apple slices: wash the (organic) fruit well, dry it and cut it into thin (approx. 5 mm) slices. Put them on a baking tray lined with baking paper and dry them in the oven at 80°C for about 5-8 hours until they are dry but still pliable. They are good as a healthy, intensely fruity snack, in mulled wine, as decoration for cocktails or anything else.
If you have a sourdough starter, you can easily multiply it in quantity and then give small portions to people who like to bake. You can find out how to make the starter here. However, if you start making it now, you'll have to give the gift later 😉
Nutty butter: Finely blend 200g organic nuts of choice in a strong blender or food processor. Add about 100ml coconut oil, 1 tsp salt and 2 tbsp honey (or maple syrup) and blend until smooth. You can also add spices like cocoa (healthy chocolate cream) or cinnamon.
Fortunately, the recipes are delicious at any time of year, in case you don't make it to Christmas. In any case, I hope you enjoy making them, snacking on them and giving them as gifts!