Today I would like to introduce you to one of my very favorite winter salads. It is a combination of orange, chicory and walnut in a creamy dressing. It is fruity, a little bitter due to the chicory, slightly creamy thanks to the dressing, and chopped walnuts give it some "crunch". It's great as a side dish with hot meals or as a main meal with buttered bread. Since I personally don't have the greatest decorating talent, I simply serve the salad colorfully tossed together from a large bowl. If you want to make it a little more classy, however, you can also present it wonderfully carpaccio-like!
Chicory contains many bitter substances, which are healthy for the intestines and aid digestion, minerals and vitamins A, B and C (1). It is very effective in diseases of the intestine, liver or gall bladder and is also said to have antiparasitic properties (2)!  Its season is from autumn to the end of spring and its root can be processed into chicory coffee, a kind of decaffeinated coffee! It belongs to the composite family, along with artichoke, Jerusalem artichoke and endive, among others (3).
Recipe for chicory-orange salad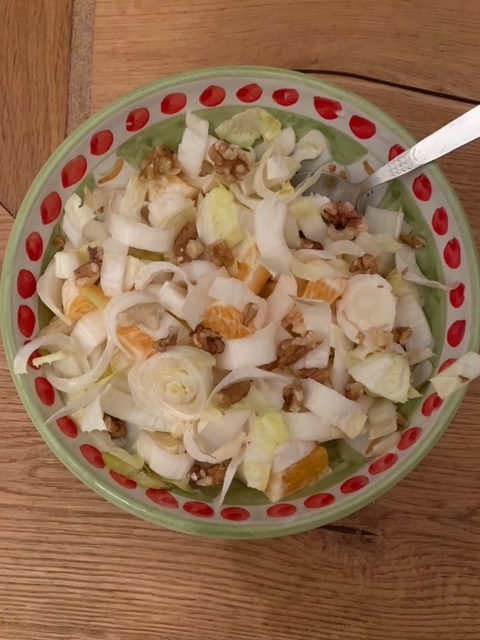 for 2 persons
Wash 2 chicory, cut into "slices".
Cut 1 orange in half, squeeze lightly over chicory. Then peel orange, cut into bite-sized pieces and add to chicory.
Add 4 tablespoons of cream, a squeeze of lemon juice, 1 teaspoon of honey, 1 handful of chopped walnuts and a little salt and pepper, mix, let stand for a few minutes.
Done! Enjoy your meal! 😊
Tips: 
For a vegan version, you can replace the cream with almond cream made from 1 tbsp white almond paste with a little water. Or you can choose a vinegar-oil variant, I could imagine olive oil and balsamic well, or walnut oil.
In Germany, chicory is usually eaten as a salad, but it can also be wonderfully braised in a pan. Simply heat olive oil and butter, saute chicory for a few minutes until it has softened a bit, add salt and pepper, and deglaze with a sip of balsamic. Wrap with a slice of ham, delicious!
I hope I was able to whet your appetite a bit for chicory! Sometimes you just have to get over yourself and try something new. Feel free to let me know if the salad is part of your standard repertoire in winter anyway and what your favorite chicory dishes are!
Your Alina